The last two weeks were extremely busy, but at the same fascinating. We've just returned from our second conference that happened less then in a week after the first one.
The first one called Game Anglia was in Ipswich. It's a fairly small local event, but it's a perfect place to showcase a game if you've never done it or want some real feedback from the players.
For us it was our first showcase ever. And I mean it. We've never showcased any of our games before. And to be honest, now I strongly believe it's an absolute must thing to do. Not for the press coverage and exposure, which are obviously important and good to have, but for the players' feedback. Watching someone playing your game in real life can tell A LOT about your game design and the rough corners that need polishing.
Our meagre budget didn't allow us to make a flashy booth and a ton of cool swag. So we went with an absolute minimum.
We were showcasing Mist Hunter on a 15-inch laptop, made about 100 pins for giveaways and we opted out for a special package from the conference organisers that included the big foam board, stickers, brochures some other stuff for goody bags. Overall, the total budget including one night in a hotel and train tickets was about 250£. It's possible to go even lower, but you need to plan and book many things in advance. Also showcasing on a laptop isn't ideal as passerby can't see what's going on the screen, hence less chance to catch their attention unless you've got a really cool booth. Always bring as many showcase devices as you can.
This is how our booth looked that day

Feedback
We've gotten a good share of positive feedback. Everyone has liked the art style and the controls. It was really fun watching people running around like crazy, dashing and dodging projectiles. Arena mode was just perfect for showcasing the game. It's fast, intense and mostly self-explanatory. But I must admit the timer mechanic needs to be better explained. I we had had 2 PCs it would've not gone that smoothly. Don't rely on the text prompts and hints nobody reads them, especially at the expo when you've got a bunch of games you'd want to check out.
Another big advantage of the arena that it's fairly short. If someone didn't like it they would just walk away in a few minutes. And Mist Hunter is clearly not for everyone. We knew it's a niche game with a rather steep entry barrier in terms of skill and the showcase has proven it.
It takes time to get used to the flow of the game especially on the arena. The good things it perfectly resonated with our target audience. There were a few players who shredded the game. They used everything we put in the game, they moved perfectly around the map picking every time capsule right on time. It was mesmerising. The best time of that date was over 45 minutes. Yes, 45 minutes in a single run. Even with a bug that turned one type of enemies in the trap-spawning machines. Wish I had a video of this run.
I just couldn't believe my eyes. It's highly motivational when you see that every design idea you put in your game is being used the way you'd planed.
DevGamm
Devgamm Minsk was the second show we attended this week. We didn't showcased the game, but we had been nominated as "Best Indie Game" and "Best Desktop Game".
It's also the first time our game was nominated for any award, so we couldn't miss it. Unfortunately, we didn't bring home any awards, but it was super cool and rewarding experience to be on the stage with other game developers. As a nominee we have received 2.5k $ which also a cool bonus.
Anton with the cheque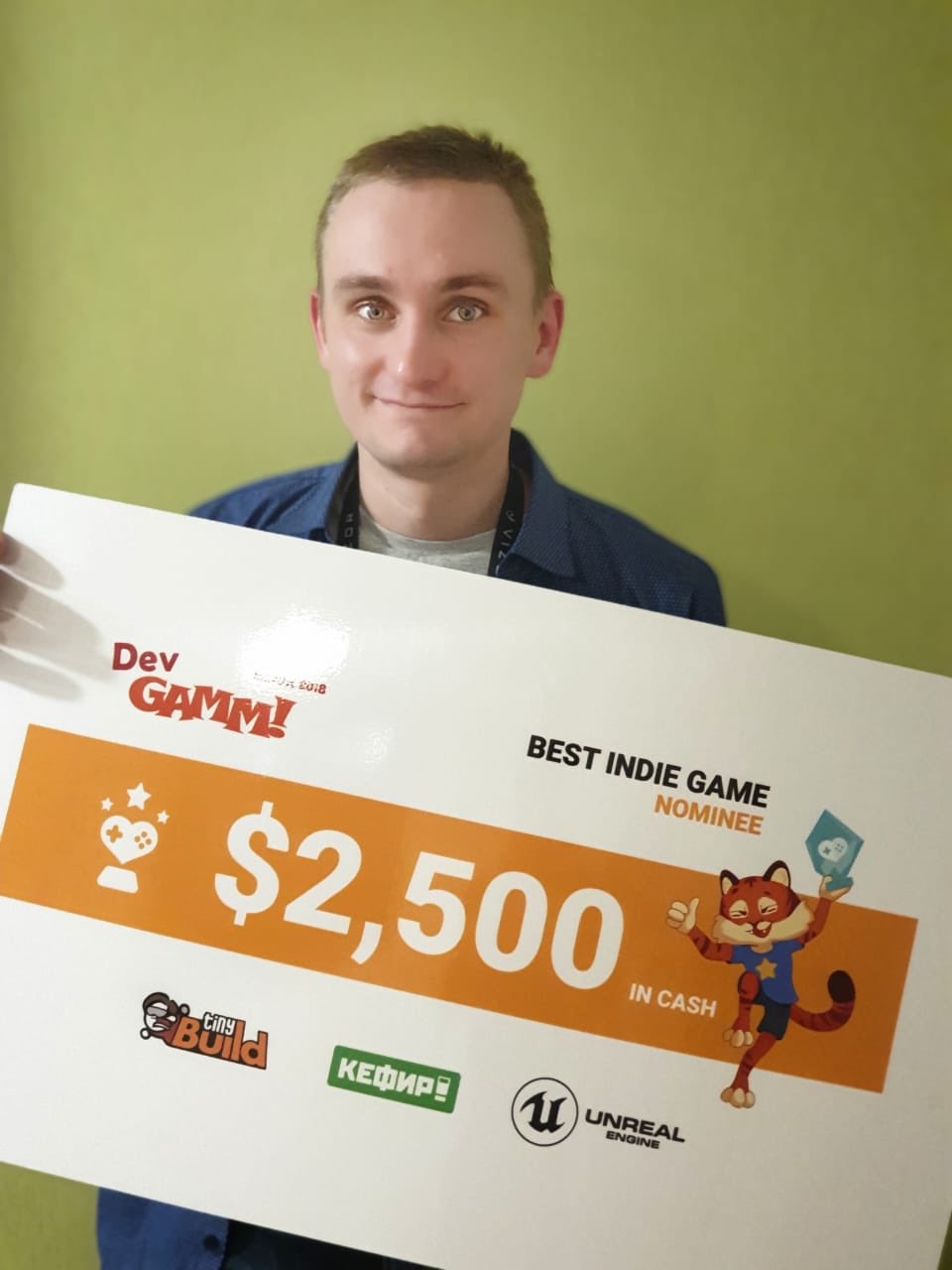 The expo was cool and if you can I highly recommend checking it out. Though it's more developer/business oriented.
The nearest plans for us is to implement the feedback we had received at Game Anglia, fix bugs and make a few more arenas to test some ideas. And of course bring the second mode to life.